TRIPS Waiver
Founded

First proposal: October 2020; revised proposal: May 2021.

Governance

World Trade Organization (WTO)

Funding

Not applicable.

Description

[Please note: this page will be shortly updated due to the recent ministerial decision by the WTO on the TRIPS Agreement.]

The Agreement on Trade-Related Aspects of Intellectual Property Rights (TRIPS) sets out minimum standards all member states of the World Trade Organization (WTO) must provide to protect intellectual property rights on novel innovations. In order to enhance global, equal access to medical products against Covid-19, the governments of India and South Africa proposed a so-called TRIPS Waiver. This proposal intends to temporarily suspend certain provisions on the protection of intellectual property rights on all Covid-19 related innovations.

If the TRIPS Waiver gets unanimously adopted by the WTO, some obligations of the member states to protect intellectual property rights will be temporarily removed. To be effective, member states will have to implement the waiver nationally after WTO adoption. Thereafter, provisions on copyright, industrial designs, patents and protection of undisclosed information (stipulated in sections 1, 4, 5 and 7 of Part II of TRIPS and the enforcement of these sections under Part III) no longer apply.

Through this ceding of important intellectual property barriers, pharmaceutical companies that do not hold the patent rights can be allowed to use, produce and sell Covid-19 related innovations too. They may do this without fear of legal repercussions.

To date, 105 countries support the TRIPS Waiver as proposed by the governments of India and South Africa. Negotiations on the waiver proposal are still ongoing. Mainly high-income countries are opposed to the current proposal.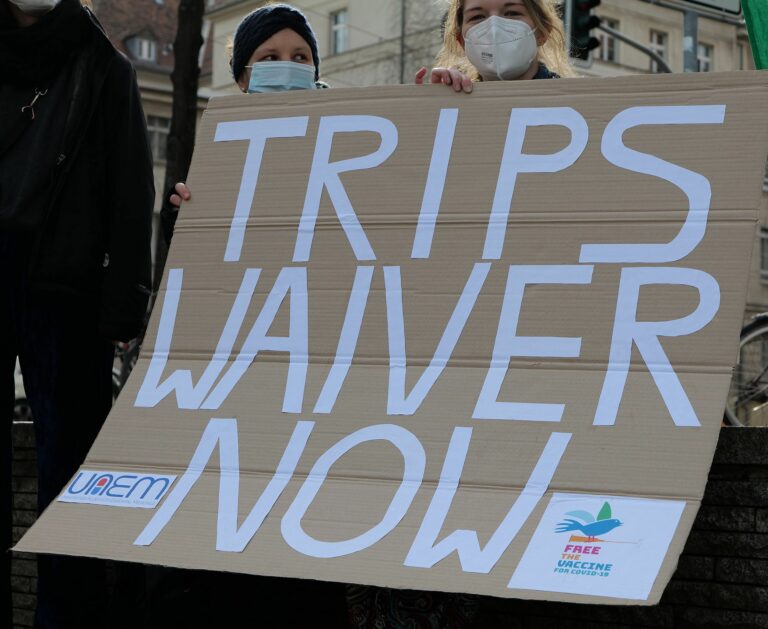 Strengths
Can accelerate up-scaling of global production capacity of Covid-19 innovations.
Reduces reliance of low-income countries on high-income countries as the TRIPS Waiver can eventually lead to local production for local needs.
Formal recognition of inadequacy of current applicable regulations that reward innovation with monopoly positions, undermining equitable affordable access for all.
Requires less individual action by national governments to overcome intellectual property barriers, compared to granting a compulsory license.
Weaknesses
Negotiations between WTO member states are time-consuming.
WTO decisions require consensus, risking a watered-down version or no waiver at all getting adopted, hampering the process towards structural change.
After adoption on WTO level, the TRIPS Waiver requires implementation on national level.
Cannot force companies to transfer all know-how and technology (e.g. undisclosed information) needed to scale-up production as efficient and fast as possible.
Free Trade Agreements some countries have concluded, may hinder the full impact of the waiver.
Review
The TRIPS Waiver proposal expresses shared dissatisfaction with the TRIPS Agreement. As such, the negotiations provide fertile ground to rethink the agreement in light of access to health innovations.
The advance of a waiver depends on the version the WTO unanimously adopts, if any. To safely and effectively set up a production line for Covid-19 technologies about which certain knowledge is not yet widely available, a TRIPS Waiver should include the suspension of Section 7 of TRIPS that encompasses the protection of undisclosed information such as know-how, trade secrets and rights in data shared with regulatory authorities.
Though, even when the WTO adopts a TRIPS Waiver including Section 7, instant success is not guaranteed for all Covid-19 innovations. Transfer of this undisclosed information requires collaboration of the right holder, who may not be willing to do so. Without cooperation of the right holder, expansion of production capacity can be considerably delayed for products that require technology transfer.
Governments, however, can overcome this obstacle by putting pressure on right holding companies to cooperate. For expanding production capacity of products that do not require technology transfer (products about which the knowledge is already widely available, such as small-molecule medicines), the TRIPS Waiver can be beneficial instantly.
Furthermore, export impeding provisions must be ceded too, to facilitate cross-border supply of essential products related to Covid-19. Lastly, the range of technologies the waiver addresses is critical. E.g. the US endorsed the TRIPS Waiver proposal solely for vaccines. Other health technologies (diagnostics, therapeutics, devices, protective equipment, etc.) must be included too.
The TRIPS Waiver, as proposed, has a temporary nature but has potential to greatly contribute to increasing worldwide capacity to innovate and manufacture medical countermeasures, including in low- and middle-income countries. As such, the TRIPS Waiver can potentially stimulate long-term structural change.