Multilateral Leaders Task Force on Covid-19
Founded

June 2021

Governance

International Monetary Fund (IMF), World Bank Group, World Health Organization (WHO) and World Trade Organization (WTO).

Funding

The taskforce itself does not provide or require funding. It calls upon G20 countries to provide financing to close the funding gaps, including for the Access to Covid-19 Tools Accelerator (ACT-A)/COVAX, and to share at least 1 billion vaccine doses in 2021.

Description

Leaders of four multilateral organisations have joined forces to increase access to Covid-19 related innovations for low- and middle-income countries. The taskforce set a goal to reach international vaccination grade targets of 40% by the end of 2021, and 70% by the first half of 2022. To track progress and increase transparency, the group has published a tool to monitor access to vaccines, therapeutics and diagnostics per country.

The goals for 2021 were not met, actual delivery stayed far behind at only 443 million doses. The taskforce now calls on governments that already achieved high coverage to fulfil their pledges urgently.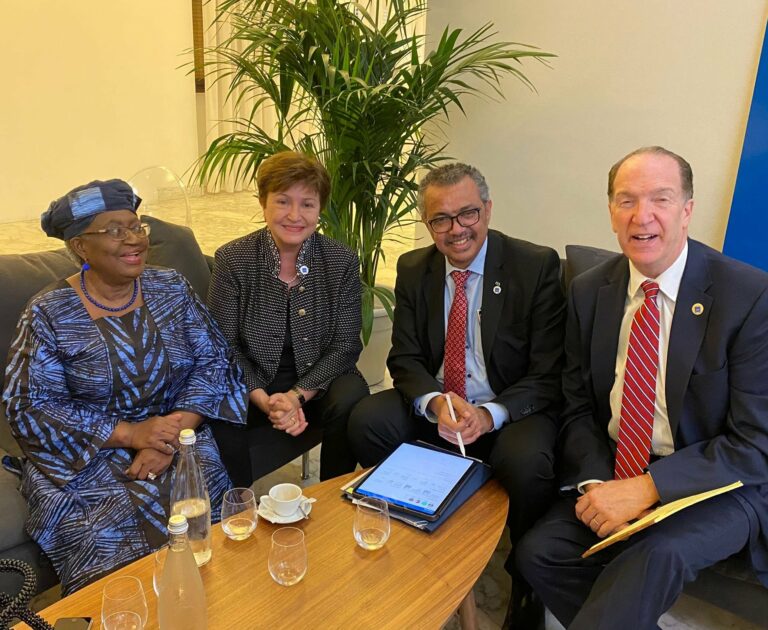 Strengths
High-level attention to address gaps in access to vaccines, medicines and diagnostics.
Intends to stimulate local production of medical products in low- and middle-income countries.
Calls for increased support to low- and middle-income countries for obtaining crucial Covid-19 products.
Highlights cross-border trade flows, restrictions and supply chain issues.
Enhances transparency by providing up-to-date country-level data on dose requests, contracts, deliveries and deployments of Covid-19 vaccines to low- and middle-income countries.
Weaknesses
Success relies on the goodwill of G20 countries and leading vaccine manufacturers, maintaining the dependency of low- and middle-income countries.
Does not mention sharing of intellectual property and/or know-how as an essential step to increase manufacturing capacity. Therefore, risk of public funding being directed to current (vaccine) producers, maintaining monopolies.
Unclear if financial support for production is conditioned for equity and fair pricing.
Although the taskforce emphasizes the need for grants, it also calls for more concessional lending which would add to countries' debt burdens.
Does not provide information on how it will contribute to pandemic preparedness.
Review
The Multilateral Leaders Task Force on Covid-19 has set out short-term goals to support and speed up the roll-out of Covid-19 tools, with special focus on low- and middle-income countries. The taskforce calls on G20 countries in particular, to become much more ambitious in their goals related to funding the Covid-19 response and sharing vaccine doses. If these asks are followed up by G20 countries, the short-term impact could be relatively high.
In addition to access to vaccines, the initiative aims to enhance transparency through an online database that shows countries' requests for vaccine doses, contracts and the extent to which donors live up to their promises of delivering doses.
The taskforce does not address longer-term or more structural solutions to pandemic preparedness or access to essential health technologies. The solutions proposed do not question the current system of intellectual property rights, technology and know-how, monopolies, and depend on the goodwill of G20 governments and leading vaccine manufacturers. As such it does not do enough to address the power imbalance between high- and low- and middle-income countries, and between governments and leading vaccine manufacturers.